GUEST HOUSE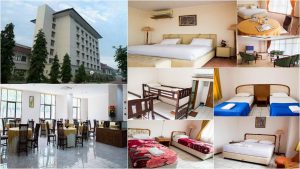 The guest house is equipped with facilities: bedrooms, meeting rooms, lounge meeting rooms, study rooms, dining room, gazebo, lobby, and internet access (hotspot area). There are 75 rooms with details: 2 suite rooms, 6 executive rooms, 37 deluxe rooms and 30 standard rooms.
CLASSROOM
The Training Institute has 6 classes that have soundproof settings. Each with a capacity of 40 people/class.
AUDITORIUM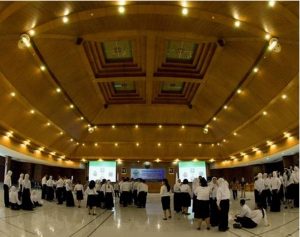 The Auditorium that can accommodate 600 people is usually used as a meeting place, workshop/seminar, office and civil servant candidates inaugurations and other events. It can be used as an indoor badminton and table tennis court as well.
LIBRARY
The Library of Training Institute has around 7000 book collections and is equipped with computer facilities, internet, reading room, and hot spot in its area.
LABORATORY
The Training Institute has three types of laboratories to support the implementation of education and training, namely the Computer Laboratory, Auditing Laboratory, and Moot Court Laboratory.
HALL
The spacious room with a capacity of 200 participants located on the 2nd floor of Class building.
DINING ROOM AND CANTEEN
The dining room building has 2 floors and can accommodate 400 people. There are kitchen facilities and buffet tables. The canteen area is located in the back corner of the Guest House yard.
MEDICAL FACILITIES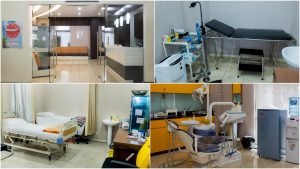 Health service facilities (polyclinic) consists of general polyclinic and dental clinic equipped with medical equipment
SPORT FACILITIES
– Sport Center (Futsal Court)
– Fitness Center (located on the ground floor of the Auditorium)
– Badminton court
– Basketball court
– Volleyball court
– Archery and Table Tennis Facilities
RECREATIONAL FACILITIES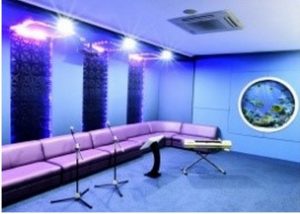 – Karaoke Room (located on the ground floor of the Auditorium)
– Tools to play music
ATM