I'am Your Coach : Memimpin dengan cinta dan penghargaan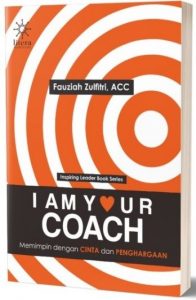 | | |
| --- | --- |
| Author | Fauziah Zulfitri |
| Publication Year | 2020 |
| Classification Number | 658.312 ZUL i |
| Language | Indonesia |
| Subject | Coaching |
| | |
This book invites you to learn about new styles in the era of digital disruption and adaptive challenges between generations, with the aim of producing engaged people with a happy mindset and productive actions.
Using a "humanizing" approach, you are invited to understand the concept of coaching and positive leadership along with 3 essential steps, along with examples that can be directly put into practice in organizations. Applying it will encourage you to develop a leadership style that is empowering and makes you loved by those you lead.
That way, they with their own awareness and sincerity will be motivated to bring out their best potential, also carry out their responsibilities with love and confidence so that what they do is not only meaningful for themselves and their team, but also becomes positive feedback for the organization.