Utilization of technology, especially in the implementation of inspection tasks, is inseparable to support the realization of an effective and efficient audit. "To accommodate the various needs of the examiners, Badiklat PKN organizes Training on the Utilization of Drones for Mapping Agricultural Land and Irrigation Channels," said Head of the Center for Planning and Implementation of Education and Training, Juska Meidy Enyke Sjam in her speech in front of 32 training participants consisting of auditors from State Finance Auditorat IV.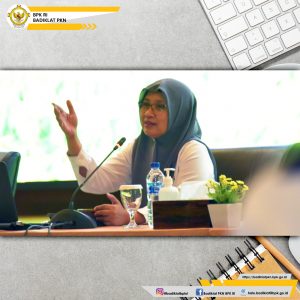 The use of drones in carrying out audit tasks is to conduct land area audits more efficiently. This process is done without having to go around looking for coordinates. In addition, the use of drones can also be used for detailed mapping of land parcels through aerial photographs. The advantage of using drones is that apart from saving time and money, they can also be used in large or difficult-to-access areas. Thus, the process of mapping the soil, especially on agricultural land, becomes very easy, especially to obtain irrigation distribution maps, monitor crop conditions and identify weeds.
The material presented in this training is the theory and concept of photogrammetry, drone regulation in Indonesia, introduction to the basic components of drones, and drone flight path planning. The training, which will take place from January 24 to 27, 2022, will be held face-to-face in the PKN Badiklat Auditorium, Jakarta. In addition to classroom learning, the participants will also make a visit to Karawang, West Java for hands-on practice of using and operating drones as well as technical practice of calculating mapping areas.